some kind words from people who've tried our products
...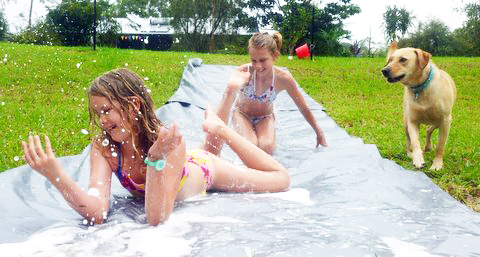 We LOVE Kin Kin naturals! The dishwashing liquids is perfect for slip 'n slides too! Jenny, Kin Kin
To achieve the highest level of product performance and still manage to be truly environmentally respectful is very impressive. Kin Kin Naturals is outstandingly good. Anyone who really cares about what is going into their greywater or down their drains should definitely be choosing to use your products. I can't wait to see what else you develop. Carolyne, CBM ORGANIC
I have been doing lots of research over the past year attempting to put together a catalogue of the most conscious products available for the kitchen, bathroom and laundry I can find. I am absolutely thrilled to have discovered your beautiful products. I have never been happier with a dishwashing liquid or a washing detergent so I will definitely be recommending your products to my clients. Thank you for creating these products. It is such an important contribution... Renae, Palmwoods
I've just discovered your products which I love! I just wanted to tell you how fantastic your Oxygen Whitener is. I always try and use natural products but on the odd occasion I have to resort to using commercial whiteners and they still don't get out old stains. I've been using your Oxygen Whitener for a couple of weeks and it is amazing! I had old stains in some clothes and was considering throwing the clothes away but your whitener got them out! I couldn't believe my eyes and it also gets out the yellow stains on white shirts which again I've always had trouble with. Thanks so much for a great product, I look forward to seeing more products in the range. Heidi, Maroochydore
I am very anti-palm oil. What a relief to see someone such as yourself on the same wavelength also. A lot of companies like Planet Ark call themselves Eco-friendly and they have palm oil in their washing powder. After trying to switch from their powder I used soap nuts (useless) and tried making my own grainy product from Castille soap, bicarb and lectric acid. Your product is so much better and really economical too. Thanks for putting your ethics first. I will send the Borneo Orangutan Survival Foundation your product name so they can put it on their list of palm oil free products. If there is anything I can do to help spread word of mouth then I will. We adopted an Indonesian Orangutan named Carlos and very soon myself and my husband are travelling (carbon neutral) to Sepilok. Keep up the good work and thanks! Anne-Maree, Sydney
I am really loving the washing up liquid and dishwasher powder! I have been using them for 6 months and am definitely a convertee. As well as working fantastically well, being safe for my bio septic, and my family, the price is very commendable. Niki, Pinbarren
I have been so impressed by the rationale behind your products and the quality of the laundry liquid. It's not only environmentally friendly but it cleans the clothes better than any other green laundry detergent I have tried so far and smells beautiful! All the best with your business. Judy, Geelong
Wow. Finally found a dishwashing liquid that not only smells amazing, has perfect consistency, and has no nasties in it. the price is right too! Kirsy, Peregian Beach
I don't normally email manufacturers regarding products, but I was so impressed with the performance of the product, I just had to tell you to keep up the brilliant work. The detergent lasts forever, is local, ethical and smells just brilliant!
P.S - is also good at removing the soot on my citrus trees! Lisa, Kilcoy
Just wanted to say I have been using the laundry liquid and dish liquid for about two months now, and I am very impressed. After years of trying out the eco friendly stuff I was amazed to find this local one that really stands out from the rest. Usually when laundry powders and liquids say they are concentrated, I always find myself adding more to get a better result. But with your laundry liquid I get the full 30 washes. So thanks for such a great product at a very affordable price. Samantha, Mount Mee
I recently purchased your dishwashing liquid and I am so happy with it. The best by far from any other alternative dishwashing cleansers out there and trust me I have tried them all... and I love that you are QLDer's.. Good Work and Thank You. Stacey
Just writing to let you know we are really impressed with your dishwashing liquid and washing detergent. We got a bottle of both a few months ago and they have only just run out now!! talk about long lasting. Reckon I got at least 50 washes out of the washing detergent. Some friends got some at the same time and were equally impressed at how far it goes and how well they both work. Anyway really hooked and thank you for producing it. Hope things are going well for you. Megan, Murgon
Congratulations on your fabulous products. I just had to let you know how excellent they are. Well done. It's a very good thing to be able to buy locally made really really really good products. May you have a long, happy and fruitful business that grows and grows. Elly, Pomona
Our products were also reviewed by
naturalnewagemum
,
organic reviews
and lifeatarbordalefarm
.